Cecilia Stanghellini and Esteban Baeza Romero, Protected Horticulture Group of the University of Wageningen, the Netherlands, brought their experience to the conference: "Greenhouse 2.0 - Climate and technical inputs for a sustainable greenhouse?", Held on 13 February 2018 at the University of Bologna, Faculty of Agriculture, organized by Silvio Fritegotto, with the media partnership of AgroNotizie (moderator, Cristiano Spadoni).
Light is the fuel of photosynthesis...
... therefore a careful management of the greenhouse system must tend to maximize its function as a collector of sunlight. In addition to paying attention to the exposure of the crop to light, this is achieved through a careful selection of the roofing material and its good maintenance and, in the case of new constructions, the choice of "light" structures that minimize the creation of shadows.
Sufficient capacity and good management of ventilation must be the primary method for keeping the desired temperature indoors, so as to minimize the period in which shading could be indispensable.

Diffusive roofing materials (however at least 75% transparency) can further decrease the need for shading and increase production, as Pasquale Mormile has argued in his comprehensive presentation, highlighting the progress made in this sector.
Additional artificial light can have a profitability in Mediterranean conditions only for high value crops.

As in all companies, an informed analysis of costs and benefits is essential to understand which investments are worth and which are not.
Plant physiology and technical inputs
Stefania De Pascale took the stock of the situation on research and innovation in the field of greenhouse crop physiology.
Control and management of the climate in the greenhouse affects also nutrition and Prof. Alberto Pardossi spoke of "Sustainable management of fertigation in greenhouse crops".

Fertigation in greenhouses is often used for soilless crops. For these crops it is important to know and know how to manage the cultivation substrates, as Costantino Cattivello wisely presented.
In conclusion, good climate control (even for a Mediterranean greenhouse) is important in pest control also with auxiliary insects, as Stefano Foschi presented.
Organization


Media Partner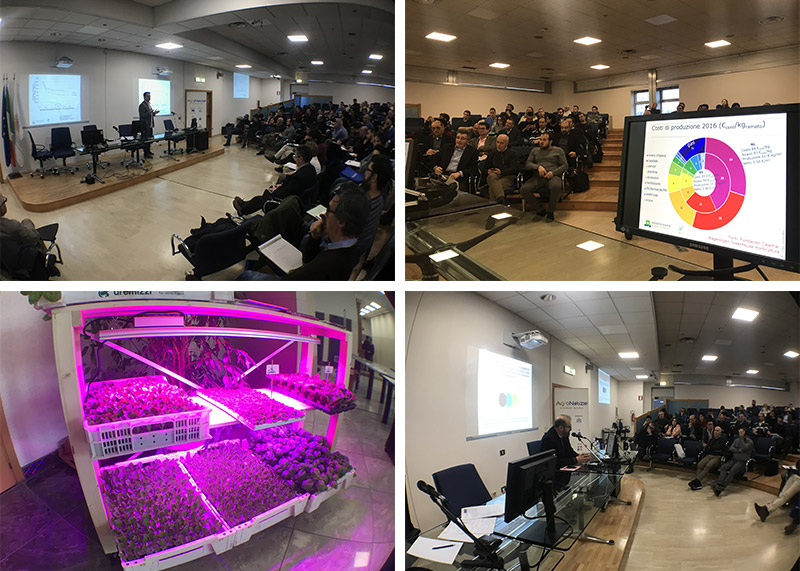 Sponsor